ITT
Welcome
If you're looking to train to be a teacher, we think you've come across a provider that can meet your needs and surpass your expectations!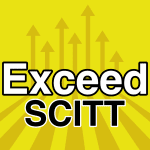 Exceed SCITT is focused on delivering high-quality school-led initial teacher training (ITT) so we have Newly Qualified Teachers (NQT) to recruit to future teacher vacancies. If you want a quick summary of why we're a great initial teacher training provider or if you're seeking more information and guidance before applying, follow the link below.
http://exceedacademiestrust.co.uk/scitt/
WHY SHOULD YOU TRAIN TO BE A TEACHER WITH EXCEED SCITT AND ITS PARTNERS?
This is an important question and one you need to ask yourself and initial teacher training providers. We hope that by following our virtual guide and by talking to us you'll learn all about why you should train with Exceed SCITT, Exceed Teaching Schools Alliance, Bradford South Partnership or Westerton Primary Academy School Direct  Alliance in some detail.
Here's a quick summary of what we feel are the important points for you to consider:
We're schools. Exceed SCITT, Exceed Teaching Schools Alliance, Bradford South Partnership or Westerton Primary Academy School Direct  Alliance are all schools that lead on initial teacher training. We're not run by a university, we deliver the training that you need (we know what you need because we're school leaders and teachers ourselves!).
We're teachers. Why would you want to be trained by people who are not full-time school leaders and teachers NOW? We're not former or retired teachers. We do the job everyday. We can bring you real life examples and immerse you in the school experience.
We want to give you a job. We're not looking to churn out teachers for the sake of it; we're training people to become teachers in our schools: we want to employ all our trainees if possible. Training new teachers solves the recruitment challenges schools face across the country. By giving you the very best training we're solving this issue for all our partner schools. See what our teachers and trainees think!
We have Hubs in Bradford and Leeds. We give you a choice of where you'd like to train.
You'll can gain a PGCE and QTS. Our trainees usually gain two qualifications: Qualified Teacher Status (QTS) makes them a qualified teacher whilst the Post Graduate Certificate in Education (PGCE) gives academic rigour. Exceed SCITT is a partnership of schools that have the power to make you a qualified teacher, just as universities can. The government has recognised our quality and proven track record to accredit is as a school centred initial teacher training provider. Leeds Trinity University will deliver 6 days of training and set three assignments for your PGCE.
Our schools are excellent. Look at the Ofsted grades of our partners schools. Impressive, hey! We think we have more 'Outstanding' and 'Good' schools in our partnership than any other provider.
We support Bradford, Keighley and Leeds. Our partners schools cover three focused geographical areas making them easy to access.
Our partnership of schools is uniquely diverse. Take a look at the schools in our partnerships. They are extremely diverse. This is great for our trainee teachers as we can show them and teach them so much more than a provider in a more isolated locality. You'll work with children who are new to English, asylum seekers, children with specials educational needs and disabilities…the list goes on!
We're not too big. We don't want large numbers of trainees packed into a room so that your training becomes a lecture rather than personalised and bespoke support. We're committed to having cohorts of trainees at both a Leeds Hub and Bradford Hub of no more than 40 trainees. You wouldn't teach children in a class size of 100 so why would we put our trainee teachers in a huge group? It's not good teaching or learning. If you want to be part of a small training group, we can facilitate that too: apply to South Bradford Partnership.
Our programmes are 100% planned and delivered by schools. They know what you need and your tutors are current teachers and leaders.
We offer salaried and fee-funded/unsalaried routes. We want to help everyone who wants to teach to become a teacher.
Our training programme is unique. We've looked at all the local providers training programmes and, we think, improved on them. Our programme was designed by Headteachers and school leaders who know what training you need now and in the future. We don't have block placements where your in one school for a long time before heading off to a new one. We have an integrated approach so you know two schools well from day one. We believe this helps you to become a great trainee teacher more rapidly.
We have two Teaching Schools. Teaching Schools are 'Outstanding' schools that help other schools to improve. We run training programmes for all teachers and school leaders throughout their career. So, you can train to be  teacher with us and then access support all the way until you become a Headteacher and beyond. The Teaching Schools give school staff all sorts of great opportunities. Click here to read about the impact our Teaching Schools have.